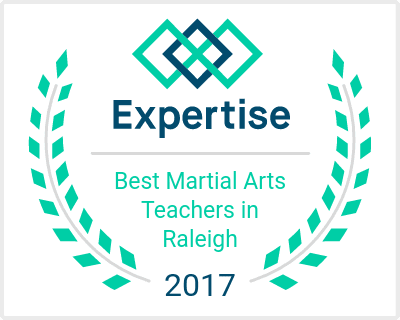 Since 1986, our school has had a reputation for offering a formidable training program in Tae Kwon Do and Hap Ki Do in the Triangle. Both are Korean martial arts styles that are very popular throughout the world because they offer a superb method of conditioning the mind and body – not only for self defense, but also for living in a positive way and contributing to the community. Other methods primarily emphasize the self defense and physical aspects of martial arts, but we incorporate the training of the mind and the body to achieve a harmony that can be applied to all areas of your life.
Founded on the principles of teaching excellence, personal attention and tradition, we provide you with the most complete and effective methods to reach your full potential.
Teaching Excellence
At K. S. Lee Tae Kwon Do, our instructors are personally selected, not only for their martial arts skill, but also for their good character, caring attitude, and ability to effectively communicate their knowledge to students of all ages. Through a special program of advanced training they are continuously upgrading their skills. It is no surprise that our instructors are ranked among the finest in the world.
Programs Designed With You in Mind
At K. S. Lee Tae Kwon Do we are interested not only in self defense skills, but also in the complete personal development of each student. Individual attention is a feature of each and every class, allowing our students to progress quickly and easily toward their personal goals. Our instructors take seriously their responsibility as role models for younger students, teaching them the importance of strong character, leadership and good values.
A Modern Approach to Self Defense
Although our techniques are based on centuries old knowledge, our application of that knowledge sets K. S. Lee Tae Kwon Do apart from the other schools. We realize that each student possesses different physical abilities. Size and strength varies with each individual, so once you have acquired a strong foundation in the basics, our program will enhance your personal physical capabilities and maximize your self-defense skills. You will understand exactly what it takes, mentally and physically, to defend yourself or your loved ones should the need ever arise.
Save